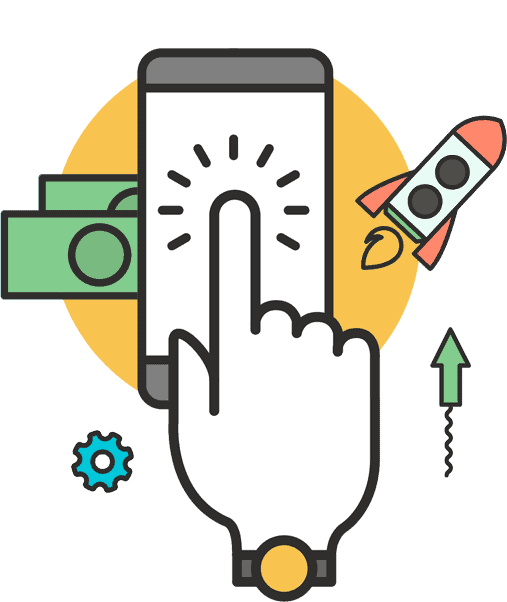 PPC Marketing
PPC is an umbrella term used to describe any paid advertising platform where you pay for each click on your ad or every 1000 times (impressions) your ad shows.
The biggest PPC player for the longest time was Google's pay per click platform called Google Adwords (now called Google Ads). In the past little while, however, Facebook has become a massive player in the PPC game with their platform, Facebook Ads, and now rivals Google.
In addition to Google and Facebook Ads, there are other PPC platforms such as Bing Ads and LinkedIn Ads, and most of the big social networks also offer PPC such as Instagram (owned by Facebook and therefore integrated into the Facebook Ads Management platform, Facebook Ads Manager), Pinterest and Twitter.
At RankPast, we have a team of certified PPC professionals who work on a variety of platforms but we mainly focus on Google Ads,  Facebook Ads and Instagram Ads. These two platforms actually complement each other because of the way you're able to reach your target audiences differently. With Google search campaigns, the user is typing in your target keyword (eg. ppc company victoria bc) so you know exactly what that person wants.
With Facebook, however, it's called distraction marketing because your target market wasn't specifically searching for your product and so the ad has to distract them from what they were initially doing.
Running a Google Ads campaign in conjunction with a Facebook Ads campaign has shown to be a very effective lead generation strategy for our clients.
For Facebook Ads, it's important to come up with a hook that makes the user want to take further action. Facebook has very in-depth targeting possibilities that range from simple demographics like gender and age to a user's interests, job or household makeup. Finding success with Facebook Ads is a combination of creating a great ad and showing it to the right people. Similar to Google Ads, Facebook also offers remarketing options, with the ability to retarget users based on their actions and interactions. Facebook offers a wide variety of campaigns from brand awareness to lead generation to conversion campaigns. Our team consults with our clients to figure out which type of Facebook Ad campaign will work best for what you're trying to accomplish.
If you're looking for a reputable PPC company that gets results, get in touch!
Typical Google Ads Campaigns We Run
Here are the typical types of campaigns we build for our clients in Google Ads:

Google Search Campaign
this is where the user types in your target keyword into Google and your ad shows up
Google Display Campaign
this is an image and / or text based ad campaign that shows on other people's websites around the web.
Google Remarketing Campaign
a remarketing campaign is an ad campaign that retargets someone who has already taken an action, such as visiting a page on your website.
Google Video Campaigns
since Google owns YouTube, they've integrated the ability to advertise on YouTube directly within the platform.
of worldwide search traffic comes from Google
how much a PPC search campaign can improve brand awareness
of small businesses invest in PPC advertising
of brands are planning to increase their PPC budget in the next 12 months
Our Clients Are Talking...
RankPast makes the experience of digital marketing effortless. If you are looking for someone to take on your digital marketing you will not regret this choice!
Reese is dynamite at continuously monitoring the processes that work and don't work and applying them immediately to the task at hand. Collaboration and communication are tenets that make dealing with him and his companies, so beneficial. We would highly recommend his talent and services.
Looking for a PPC company to successfully manage your online spend?
We've been making money for our clients with Google Ads for well over a decade.
Our team of certified PPC experts know how to run successful campaigns.