How to Use Google People Also Ask to
Find Questions your Target Market is Asking
Google's People Also Ask section is a wealth of information. But you don't know if they questions that come up actually have search volume i.e. are people actually searching / asking those questions?
If you're a business owner, marketer, SEO, researcher, content writer or blogger – or anyone really who posts content online – you likely already use Google in one way or another for research.
In this article, I'll show you how to use Google to find question keywords that are both relevant and have search volume. Meaning that not only do we know that people are searching for these keywords but we also know how many people each month are searching for these keywords. And this very simple, yet very powerful strategy works for any niche.
Let's start by looking at what you can expect to see on the 1st page of Google when searching for any given keyword.
With so many additions over the years, the 1st page of the SERPs (Search Engine Results Pages) has become a crowded space.
In fact, depending on the keyword, you can expect to see any of the following show up on page 1:
Google Ads
Local "Snack" Pack
Knowledge Panel
Images or Videos
Sitelinks
Featured Snippets
Related Questions
'People Also Ask' Questions
For this keyword research strategy, we'll be focusing on the last one above – the PAA or People Also Ask section of the Google search results. We first saw this section when Google started testing it back in 2015. Since then it's gotten a lot more prominent….and useful.
If you're not familiar with the People Also Ask section of the Google search results, here's what it looks like for the search phrase "content marketing".

Once you click on one of the questions above, the box expands to show the answer which Google pulls from top sites ranking for that keyword. And when a question box expands, it auto-populates more questions.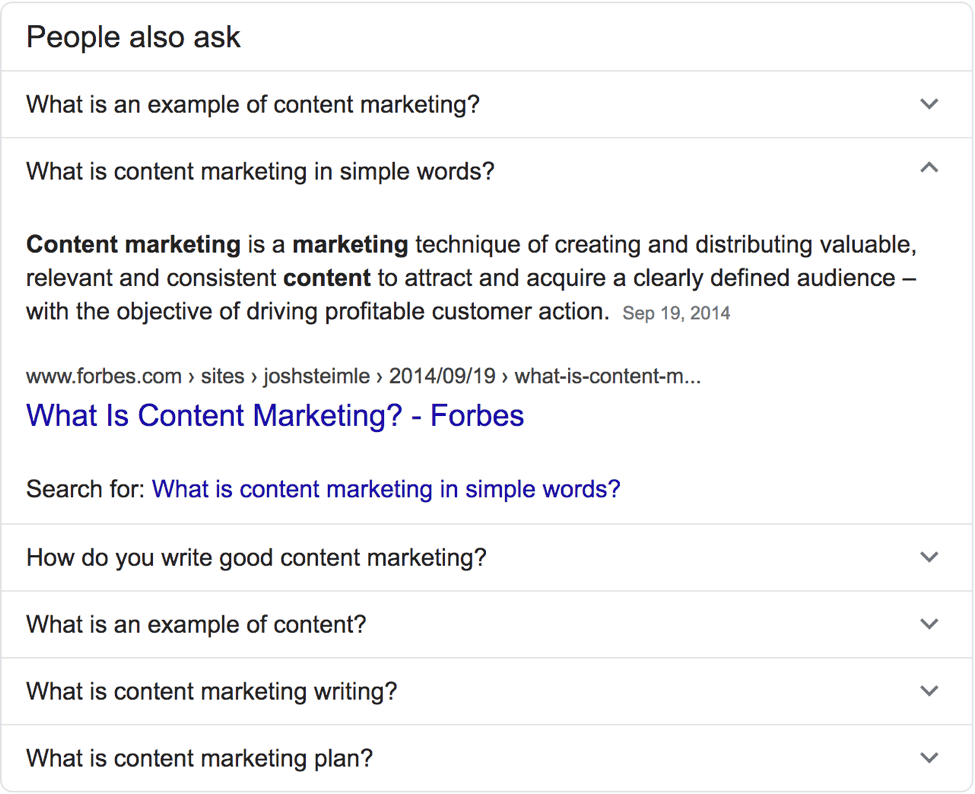 From a searchers perspective, these questions are super helpful as they often answer their query without them having to leave Google. Ultimately, Google wants to provide the best user experience for searchers. This means that if they can answer users' queries without them having to click away from Google, they've accomplished their goal.
We've talked about how useful these PAA questions can be for users but what about for us content creators, business owners and marketers? How can we use PAA to help with our content marketing strategy?
If you're creating content that you want to rank on the 1st page of Google, you need to start the process with keyword research.
There are literally hundreds of different keyword research strategies out there and there are thousands of different keyword research tools on the market. For the purposes of this PAA keyword research strategy, we'll only use the following free tools.
Google
Google Keyword Planner
Microsoft Excel
The Strategy
Ok, let's get to the goodies. Here are the 3 basic steps to the system.
Step 1: The first thing you want to do is brainstorm some high level keywords for the niche you're in. I say "high level" to mean short tail rather than long tail keywords. For example, "content marketing" vs "best content marketing system" or "video marketing" vs "b2b video marketing". The more specific the keyword you start with, the less chance the PAA section will show up.
Now that you have some keywords you want to start with, go ahead and type the first one into Google and scroll down until you see the People Also Ask section. You'll see 4 different questions and you'll want to click on the most relevant question first. When you do that, more related questions will auto populate and then you'll continue clicking the most relevant questions until you have 50 or more different, relevant questions.
Note: each time you do a search, different questions will populate. So if the first 4 questions don't contain anything that's super relevant, try to do the same search again.
Step 2: Now that you have 50 related questions, go ahead and copy the list and then open up Excel. All we're trying to do here is to get rid of the question marks at the end of each of the questions so that we can get them to a state where we can paste them into the Google Keyword Planner.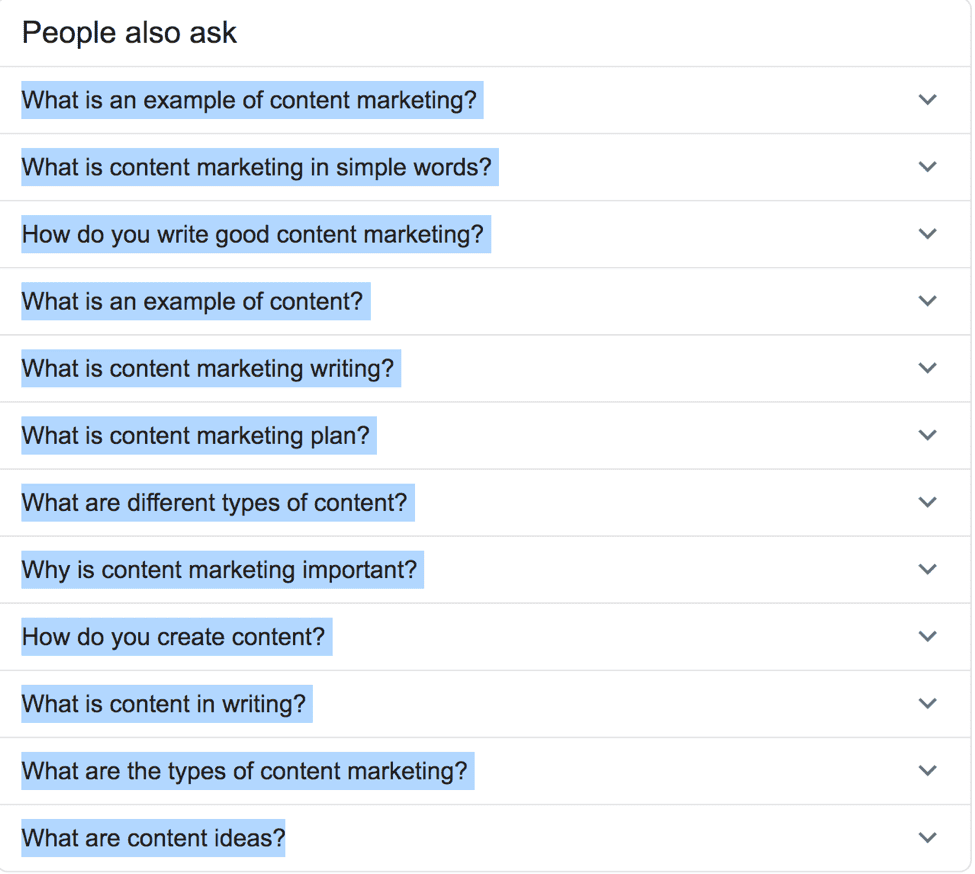 Paste the copied keyword list into Excel and then use the following formula to get rid of the question mark.
=SUBSTITUTE(A1,"?","")
Paste the above formula in the B1 column and click Enter. Then copy/paste that formula to all the cells by clicking and dragging the bottom right of the B1 cell all the way to the last line of questions.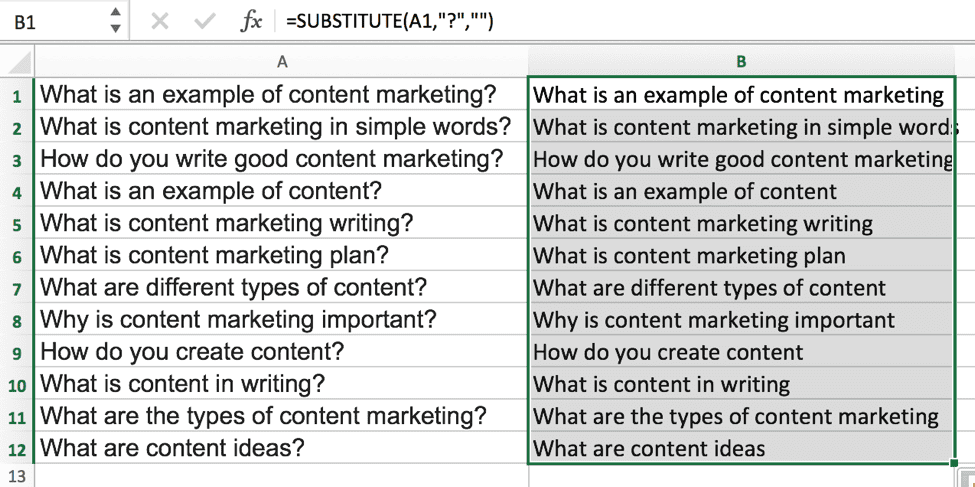 Step 3: Now that we have a list of question keywords without the question mark, we can copy/paste the keyword list into the Google Keyword Planner to see which ones have search volume (i.e. people are actually searching for them). Something to note at this stage is that you need to have a credit card on file with Google in order to get specific search volume inside the Google Keyword Planner tool. Otherwise, you'll only be able to see a range of values such as 10-100, rather than a specific number such as 30 or 90 searches per month.
Once you click the blue Get Started button, you'll want to click on the 'Get search volume and forecasts' box on the right and then paste your list of keywords and click "Get Started".

Something else to note at this stage is that the Google Keyword Planner doesn't accept keyword phrases longer than ten words. If one or more of the questions that you pasted contains 10+ words, you'll get an error but you'll have the option to remove them and continue.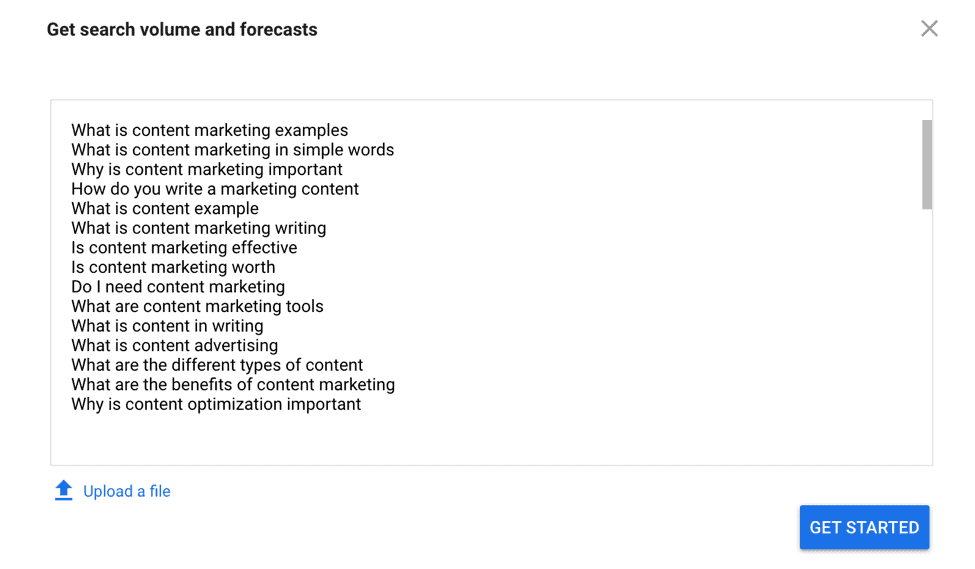 Once you're on the next page, it defaults to "Forecasts" but you'll need to change this to Historical Metrics. You'll also want to make sure the locations is All Locations if you're national company or you're using this list for blog content.

Then download your keyword list using the download button to the right of Historical Metrics and make sure you choose the second option in the dropdown: Plan historical metrics (.csv).
Once you're in Excel, you can clean up and filter the list by just keeping the Keyword and Avg. monthly search volume columns. Then remove any keywords that don't have any search volume, keeping only the keywords that you know people are searching for month after month.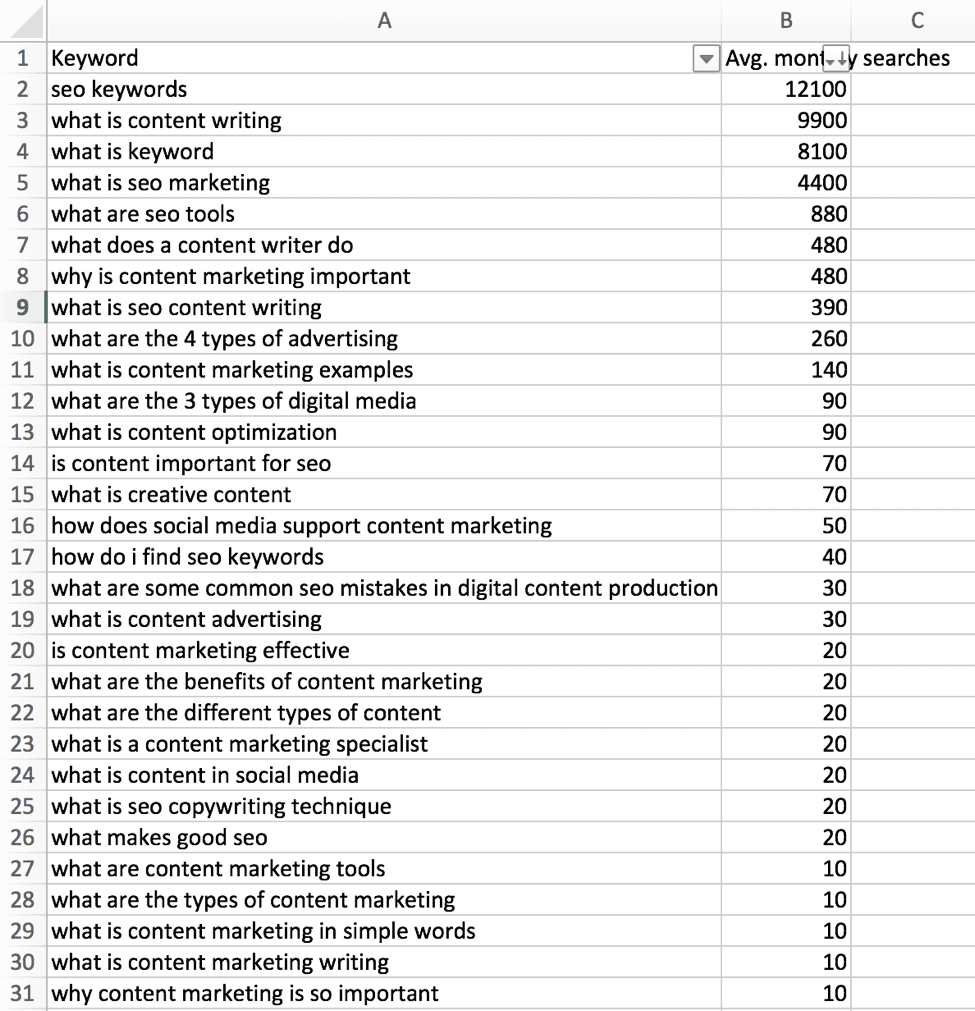 Now you have a list of question type keywords that you know people are actually searching for, you can start creating content around these keywords knowing that you're creating content around keywords that have search volume. And because you're creating content that specifically answers questions, your site will have a much better chance of showing up for voice searches such as those made on Google Home or Amazon's Alexa.
If you're looking for a mind-map type look at the Google People Also Ask questions for specific keywords, you might want to try the Also Asked search engine.
If you're looking to get more traffic and higher rankings, get in touch with us for a free consultation.