Your Guide to Increased Rankings via SEO Optimized Content
On-Page SEO plays a vital role in getting and maintaining rankings in the search engines. There are many ways to improve your website's rankings, but the most important part is to make sure that you have a solid on-page SEO strategy. On Page SEO is all about optimizing your website to improve user experience and rank higher in search engines like Google and Bing.
What is On Page SEO?
On Page SEO (also known as onpage, on-site or internal SEO) refers to the process of optimizing a web page on your site with the goal of improving rankings and user experience. In a nutshell, on-page SEO focuses on factors that can be controlled from within your own website versus off-site factors (aka off-page SEO) which focus on factors outside your website like backlinks.
Every piece of content you create for your site should be optimized for Search Engine Optimization (SEO). Simply stated, SEO is a process that business owners and webmasters can do to their site's content to ensure it has the best chance possible of search engines finding, categorizing and ranking their content. It refers to any practices that help you rank higher in organic search results – that is, results not paid for by advertisers (i.e. Google Ads). The better a piece of content is SEO optimized, the more likely it will show up in search results when users are looking for information on that topic.
Consider your content as the backbone of your website – it's a crucial component of search engine optimization (SEO).
On-Page SEO Factors & Best Practices: Optimizing Your Website Content for SEO
All On Page SEO optimization begins with keyword research. Because if you don't know what keywords your target market is using to search for your business online, then you can't optimize your page. So the beginning step is to find the right keywords for each of your site's pages. Remember that you need to have your target keyword and variations of your target keyword on each page you're trying to rank. One set of keywords per page. If you're a digital marketing agency, you might have a page on each of your different services and each of those pages would be targeting different keywords.
Once you know the keywords each page on your site is targeting, now you can start to implement some of these on-page SEO best practices.
On Page SEO Factors: Content
Amount of Content – the more content, the better. Aim for 1000+ words per page, more if you're targeting a highly competitive keyword. Make sure your content is unique, valuable, and comprehensive and better than what's already out there.
User-Friendly Content – make sure that your page content is laid out well, is visually appealing, easy to consume and easy to navigate
Avoid Duplicate Content – the content you add to your site must be unique and it can't be duplicated from any other site or from other pages on your own site.
Add More Multimedia – adding multimedia such as video, images, GIFs or MP3 recordings, creates a more immersive experience for the reader and keeps them engaged and on your page longer (which is something that Google likes to see).
Include Social Sharing Icons – since you've already done the hard part and created the awesome content, make sure it's shareable. Include social media sharing icons at the top, bottom or as a flyout on your page.
On Page SEO Factors: Keyword Optimization
Add target keywords to strategic places throughout your page.
Add Keyword within First 100 Words – search engines place more weight on keywords in the first 100 words of your page than on the rest. This is because these keywords are what helps Google and other search engines determine if your content matches a searcher's intent. Therefore, you'll want to add your main keyword within the first 100 words of the content on your page. The closer to the beginning of the content, the better. You may have to get creative to be able to add the keywords and still make the content flow.Eg. Take a look at the beginning of this article as an example. The main keyword for this page is "on page SEO". These early-on keyword choices also build credibility by demonstrating that you know what your reader is looking for ahead of time – which makes them more likely to stay engaged.
Keyword Optimized Headings: from the H1s to the H3s and Beyond – an <H1> tag or a Header / Heading 1 (aka the main heading), is an important element on the page when it comes to SEO as well as UX (user experience). Not only does the heading tell Google and other search engines what the page is about but it also lures the reader further into your article.Ideally, you only want one <H1> heading per page and then an <H2> for the subheading and <H3> tags for other headings down the page (also containing keywords related to your main keyword).Make sure that all your headings are keyword optimized. Your H1 or main heading should contain the main keyword the page is targeting. The H2 should contain a variation of the main keyword you're targeting.You'll want to use these heading elements in sequence down the page starting with the H1 and then the H2 and then H3 etc. H3 tags are used to further break down or explain a topic or idea in detail. They're also used to highlight specific sections within articles.Remember that with most website builders such as WordPress, you don't actually have to wrap the main heading with an <H1> tag (i.e add code) as they are added automatically. Just like using Word, you can simply highlight the text and change from "paragraph" to one of the headings. In WordPress, by default, the page / post title becomes the H1 for the page. Therefore, you should start the actual content with an H2 and use H3s down the page to further break up your content.
Add Keywords Throughout the Page – you'll want to sprinkle your main keyword and variations of it throughout the page. In addition to the above headings and the beginning of the content, try to naturally weave your keywords into your content, adding bold text or other font attributes where it makes sense.
Keyword Optimized Title & Description – add your main keyword(s) to the page title and description and make them "click-worthy". What does that mean? It means that your page title and description contain your main keywords but they are also written in a way that makes sense to the user and makes them want to click over to your site to learn more. Titles should be no longer than 60 characters and descriptions should be kept to 160 characters or less.An easy way to get ideas on how to make your meta titles and descriptions click-worthy would be to research what your competitors (in your city or another) are using for theirs. Just do a search for your keyword + city and look at the results – and then incorporate what you think would get people to click. Using numbers and symbols works well to help you stand out from the competition.
Keyword Density (aka Keyword Frequency) – keyword density is essentially how many times a word appears within your article.  Keyword density is important because it plays a role in how well your article ranks for a given keyword. Keyword density is shown in terms of percentages. If an article has a 3% keyword density for a particular keyword, it means that for every 100 words on a page, there are 3 instances of the keyword.While there is no magic number for the best keyword density to have on a page, most SEOs agree that it hovers in the 2-4%. This really depends on how long your content is.


Essentially, you want to add your keywords just enough so that it would start to irritate your 8th grade English teacher but not enough that it sounds awkward to your users.
On Page SEO Factors: Image Optimization
Optimize Image File Size – ensure images are around the 100kb size (before they are uploaded). To optimize images that are already uploaded to your site, you can use a WordPress plugin such as Smush or ShortPixel.
Add Alt Text To Images – Add alt text descriptions for every image on your page. Not only does this help with on-page SEO but it also provides a description if the image fails to load.
Optimize the Image Title – the title can be the same as your ALT text above.
Optimize the Image File Name – rather than leaving the name of your image as DSC890.jpg, change the file name before you upload it to your site. Often the filename of the image can be the same as the ALT text and Title of the image. (eg. "victoria bc seo agency – reception.jpg")
On Page SEO Factors: Linking
The difference between internal and external links is that internal links point to other pages on your own website while external links point to someone else's website.
Internal Linking – often referred to as in-text links, internal links are links that point from your page or blog post to another page or blog post on your site. Internal links "power up" your other product / services pages by linking to them.Internally link to other relevant pages on your site with keyword-optimized anchor text (i.e. the clickable text which is often blue in colour). Internal links are great because they can help Google understand how closely related your pages are. In addition, internal linking helps with user engagement which increases your site's time on page metrics.
External Linking – external links are links on your page or blog that lead visitors to other sites that may be relevant or helpful. For example, if you're writing about vaccines and want to include a link to the website of a local clinic that offers flu shots, an external link is appropriate because it provides additional information for readers while also helping Google understand what your page is about.Externally link to high-authority, non-competing sites where appropriate.Remember to open links in new windows so that you keep your reader on your site.
On Page SEO Factors: URL
Make sure that your site is using the more secure HTTPS protocol. Security is important to users and to Google. Most web browsers actually show an insecure icon for sites that are not HTTPS.
The URL (ie. webpage address) of your webpage should accurately describe what the page is about. When creating a new page, make sure the URL is short and keyword optimized. Note that it is typically not worth the effort or SEO benefit to change the URLs of older posts just for the sake of increased rankings.
You're essentially aiming for the shortest URL you can get that is still keyword rich and descriptive.
The URL should either be the same as or similar (i.e. shorter) to your page's H1
Advanced On Page SEO Tips
Use a Table of Contents – not only is a clickable table of contents really useful for long articles, it also helps with SEO as it provides an opportunity to add keyword-optimized, clickable links to your page (users click the link to go to that section of the page).Yet another reason to add a clickable table of contents for longer articles is that they show up in the search engines as jump-to links (see image below).

Site Speed – Page speed is an SEO ranking signal and Google has recently made it even more important. You'll want to make sure that there aren't any issues with your site loading quickly or users being left hanging while they wait for content to load. Try to aim for a page speed load time of between 1-2 seconds.There are many tools that can tell you how fast your web pages load. Google has their page speed insights tool and there's also a popular one by GTmetrix. Both of these tools will tell you how you can fix your site speed issues which are preventing your site from ranking higher.If your site is a WordPress site, you can use a caching plugin such as: WP Super Cache to improve the speed of your website. And if you've tried everything and your site is still slow, it might be time to switch to a different hosting provider.

Add Schema to your Pages – schema is essentially a snippet of code that, when placed on your website (properly), allows Google to more easily understand the contents of your webpage. There are many different forms of schema such as reviews, FAQs, business or organization etc. Since schema (or structured snippets as its sometimes referred to) is a large topic in and of itself, here is a schema learning resource from the SEO plugin Rank Math which walks you through how to add schema to your site using their plugin (which happens to be the best SEO WordPress plugin on the market in our opinion).
Make use of Breadcrumbs – breadcrumbs are the links that you see at the top of web pages that show you which page you're on, but also show the parent pages such as the example below.We'll just touch on breadcrumbs as they can be useful for certain sites. If you're a small, local business, then your site is likely not big enough to benefit from the use of breadcrumbs.  For a larger site, especially an e-commerce site, breadcrumbs can be invaluable.
Free On-Page SEO Tool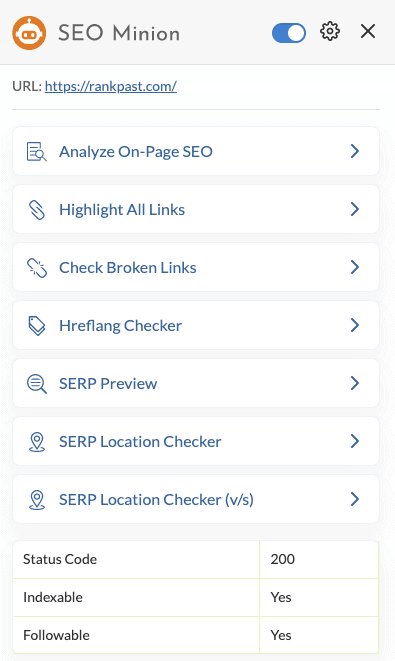 There are a slew of different free on page SEO tools on the market but our favourite is an SEO Chrome / Firefox extension called SEO Minion. Not only does this little SEO tool show you the on-page stuff for whatever webpage you're on, it also shows you all the following extras:
Highlight All Links – it can highlight all the links on the page and then break them down to internal/external and follow/no-follow
Broken Link Checker – scans your page to locate any instance of broken links
SERP Preview – this shows you what your page looks like in the Search Engine Results Pages (SERPs).
Status Code – you can see if your page is indexable and followable
There are a couple of other features inside the plugin but we'll let you play around and find those. You can install SEO Minion here.
Free SEO Plugin for WordPress
If you've got a WordPress site, there are a bunch of SEO plugins that you can use to help you with the on-page work. We used to use the Yoast SEO plugin but now we use the more advanced Rank Math SEO plugin as it's easier to use and has more features.
One last note: when thinking about how to effectively optimize your website for on-page SEO factors, think about your content from a grade 8 perspective. Does your content flow well, read well and is it easily understood by a grade 8 student. If not, dumb it down.
That's literally everything you need to know about how to write effective, SEO-optimized content that ranks. These on-page SEO tips and strategies, if implemented, will give your site a nice boost in the search results. Will it be enough to get you to page 1, number 1, maybe not. But it'll be a good start.
If all this SEO talk sounds confusing and difficult and you don't really have the time to implement any of the on page SEO strategies above, get in touch with one of our marketing professionals. RankPast can take care of all your digital marketing needs – from on-page SEO to Google Ads to Google Maps optimization, lead generation and more.